Eco-Kids Club program suspended until further notice
We have temporarily suspended our monthly Eco-Kids Club. Factors include lack of funding and a suitable permanent location for the monthly programs. Sorry kids.
Reptiles are coming to the next Eco-Kids Club!
Eco-Kids have a new adventure every month! Join us!
Saturday, February 11 beginning at 10AM at the Myakkahatchee Creek Environmental Park. Snakes, turtles,lizards will be featured. See these creatures up close and personal! Then play the Sea Turtle exploration game. Snacks and water provided. $1.00 suggested donation per child. Directions to the park: North on Sumter to the end (Tropicaire Blvd.) Turn left then first right at Reistertown. Continue to the park entrance on right.
Eco-Kids are tree-mendous!
Eco-Kids at Kirk Park, January 21, 2012
Be sure to mark your calendar for our next Eco-Kids Club program February 11 at the Myakkahatchee Creek Environmental Park which will feature "Reptiles" presented by Doug Jones beginning at 10AM.
Eco-Kids had a "tree-mendous" Florida Arbor Day!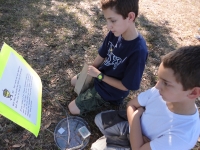 Jack and Nick Serianni try out the tree-mendous scavenger hunt game!
Our Eco-Kids Club program for January took place at Kirk Park in North Port. After taking part in some tree-mendous games and crafts, the kids helped out with the planting of six Florida elm trees at the park.
The Shark Brothers meet the Eco-Kids!
The "Shark Brothers" (Sean and Brooks Paxton) put on a fascinating program in November for our Eco-Kids out at the Myakkahatchee Creek Park.
Our 8th Annual Eco-Kids Club Blast! WAS a Blast!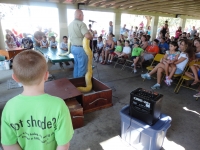 Kids checked out large reptiles at our Eco-Kids Blast! last month!
Our annual official kick-off celebration for another year of great monthly programs for the Eco-Kids Club took place on Saturday, September 10 at Dallas White Park. John Storms presented his exciting "World of Reptiles" show and kids of all ages climbed the 25-foot climbing wall, found their way through our Tree Maze, took a ride on the Tree-mendous Hayride, played our "RecycleToss" and "Trash Blaster" games, and every native one-gallon tree we brought to be "adopted" was taken home! The Knight Owls Kiwanis provided free hot dogs and lemonade for the kids. Check out our Eco-Kids Club link for the year's full schedule of programs.
Fossil Find was great!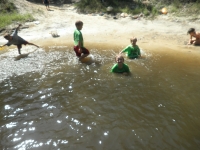 Eco-Kids get out there! In the Myakkahatchee Creek in North Port.
On April 23, the "Eco-Kids Club" had their "Fossil Find" program with Sarasota County 4-H agent Keith Wilson. Children found sharks' teeth and other prehistoric items in the waters of the Myakkahatchee Creek from the Oaks Park in North Port. The "Eco-Kids Club" is open to any child (recommended ages 5 and up) who wants to explore the great outdoors of Florida. Suggested donation is $1.00 per child. For more information call Alice White at 426-9752.
Snakes and Turtles visited the Eco-Kids Club!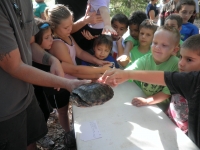 A cute Florida turtle!
Hey,Kids! On March 19, Doug Jones presented a really exciting program at the Myakkahatchee Creek Environmental Park. He had snakes, turtles, and lizards. Check it out!